The Courtship "Acts of Chivalry" March 13 2022 on NBC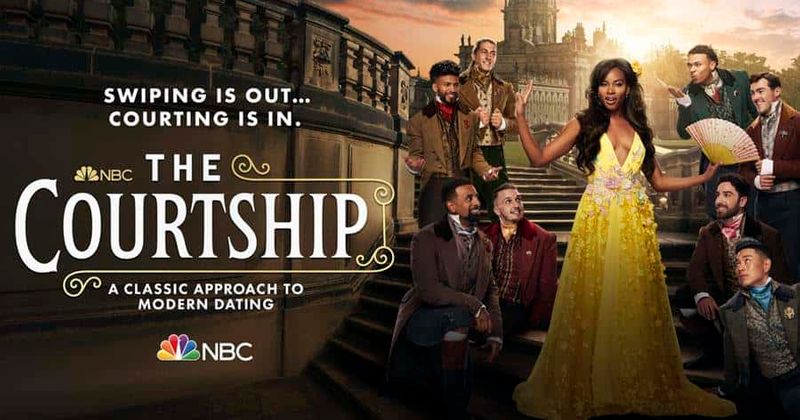 Tonight (Sunday March 13 2022), NBC broadcasts an episode of the series "The Courtship" titled "Acts of Chivalry".
We've got the scoop on everything you need to know about tonight's episode, including if it's new, the time, cast, how to watch and all the episode details!
Acts of Chivalry Season 1, Episode 2 Episode Summary
The suitors join Ms. Rémy and her court for a day at the lake and attempt to out-romance one another with acts of chivalry in hopes of impressing Mr. and Dr. Rémy; at the weekly farewell ball, Ms. Rémy reveals whose journey is ending.
Is Tonight's Episode New or a Repeat?
Great news! Tonight's "Acts of Chivalry" episode of "The Courtship" is all new!
What Time is Tonight's Episode On?
Tonight's "Acts of Chivalry" episode will be broadcast on NBC at 8:00PM ET/PT.
Acts of Chivalry Episode Video Preview
Watch Tonight's "Acts of Chivalry" Episode Online
You can find episodes on the NBC website and watch full episodes on Peacock TV.
The Courtship Series Information
A heroine looking for her duke will sign up for the ultimate social experiment in romance. Transported to a Regency-style England, a group of eligible hopeful suitors will have to win the heart of our heroine, and her court. Housed in a castle on the countryside, set on a beautiful backdrop of rolling hills, the heroine and suitors will experience that with which dreams are made. From carriage rides and boat rides on the lake to archery and handwritten letters to communicate, they will be immersed in a time-traveling quest for love. In the end, our heroine and her suitors will discover if the ultimate romantic experience will find them true love.